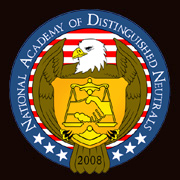 The National Academy of Distinguished Neutrals is a national association whose membership consists of attorneys distinguished by their hands-on experience in the field of commercial conflict resolution, and by their commitment to methods of alternative dispute resolution.
Membership is by invitation only, and limited to mediators and arbitrators who are well established as trusted neutrals amongst the legal community within their state of practice. All Academy members have been found to meet stringent practice criteria and are amongst the most in-demand ADR attorneys in their respective states, as voted by both local peers and litigation firms.
The following 34 Tennessee mediators are recognized as Members of the Academy...

| | | |
| --- | --- | --- |
| NAME | FIRM | LOCATION |
| Roberts, Leigh Ann | Papa & Roberts, PLLC | Brentwood |
| Noblit, David | Leitner, Williams, Dooley & Napolitan, PLLC | Chattanooga |
| Nolan, Dan | Batson, Nolan, PLLC | Clarksville |
| Travis, Mark | Travis ADR Services, LLC | Cookeville |
| Blankenship, John | Blankenship & Blankenship, Attorneys at Law | Franklin |
| Arrington, Robert | Wilson Worley Moore Gamble & Stout PC | Kingsport |
| Fansler , Daryl | Bernstein Stair & McAdams LLP | Knoxville |
| Hagood, Lewis | Arnett, Draper & Hagood | Knoxville |
| Hogan, Paul | Hogan & Hogan | Knoxville |
| Holloway, Dana | Holloway Law & Mediation Center, PLLC | Knoxville |
| London, James | London & Amburn, P.C. | Knoxville |
| Norton, Franklin | Norton & Luhn, P.C. | Knoxville |
| Vines, William | Butler, Vines & Babb, P.L.L.C. | Knoxville |
| Vogel, Howard | O"Neil, Parker & Williamson, PLLC | Knoxville |
| Blair, Allen | Blair Mediation PLLC | Memphis |
| Brown, George | Resolute Systems, LLC | Memphis |
| Cannon, John | Memphis Mediation Group, LLC | Memphis |
| Cantrell, Frank | Memphis Mediation Group LLC | Memphis |
| Jordan, Trey | McDonald Kuhn PLLC | Memphis |
| Lait, Hayden | Mediation & Law Office | Memphis |
| Mayer, Minton | Wiseman Ashworth Law Group PLC | Memphis |
| Potter, Jerry | Harris Shelton | Memphis |
| Collins, Fred | Collins Law & Mediation/Arbitration Services | Milan |
| DeHoff, Paul | DeHoff Law Offices | Murfreesboro |
| Ashworth, Gail | Wiseman Ashworth Law Group PLC | Nashville |
| Howard, Barry | Howard Tate Sowell Wilson Leathers & Johnson, PLLC | Nashville |
| Kay, James | Kay Griffin | Nashville |
| LeVan, Mark | LeVan, Sprader, Patton, & Plymire | Nashville |
| Malone, Gayle | Butler Snow LLP | Nashville |
| Russell, Michael | Russell Dispute Resolution, PLLC | Nashville |
| Shaw, Tracy | Howell & Fisher, PLLC | Nashville |
| Sweeney, Matt | Baker Donelson PC | Nashville |
| Tarpley, John | Lewis, Thomason, King, Krieg & Waldrop, P.C. | Nashville |
| Waddey, Jack | Waller Landsden Dortch Davis | Nashville |