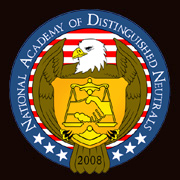 The North Carolina Academy is a professional asscociation of attorney mediators and arbitrators, distinguished by hands-on experience in the field of commercial conflict resolution. Membership is strictly by invitation only and limited to ADR professionals who are well established amongst the local litigation community.



The North Carolina Academy is one of the 6 founding state chapters of our National Academy association, formed in 2005 with the help of our long serving local Executive Committee members. This chapter has it's own website online at www.NCMediators.org. Academy members have been found to meet stringent practice criteria and are amongst the most in-demand ADR attorneys in the state, as reviewed by both local peers and litigation firms.

Executive Commitee (2014-2016): Rene Ellis, Lynn Gullick & Richard Boyette


Please click your preferred neutral below or you may click here to search by Date Availability.