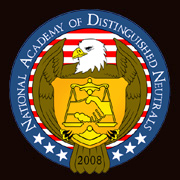 Our NEW YORK Chapter is an invitation-only professional association of attorney mediators and arbitrators, distinguished by hands-on experience in the field of civil/commercial conflict resolution. Membership is limited to ADR professionals with considerable experience who enjoy an excellent reputation within the local litigation community.


All New York Chapter mediators and arbitrators have been found to meet stringent practice criteria and are amongst the most in-demand ADR experts in the state.

Executive Commitee (2017-2018) : Ruth Raisfeld, David Abeshouse, Steven Certilman, Mike Menard

Please click your preferred neutral below, or you may click HERE to Search by Date Availability...