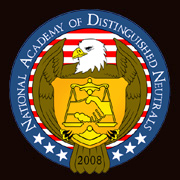 The National Academy of Distinguished Neutrals is an association whose membership consists of attorneys and judges distinguished by their hands-on experience in the field of commercial conflict resolution, and by their commitment to the practice of alternative dispute resolution.

Membership is strictly by invitation only, limited to mediators and arbitrators who are well established as trusted neutrals amongst the legal community within their state of practice. All Academy members have been found to meet stringent practice criteria and are amongst the most in-demand ADR practitioners in their respective state, as voted by both local peers and litigation firms.


Alabama Executive Commitee (2010-2012) : Rod Max, Michelle Obradovic & Phil Adams
Our Alabama Chapter can also be visited directly at www.Alabama-Mediators.org

Please click your preferred neutral below, or you may click to search by Date Availability.